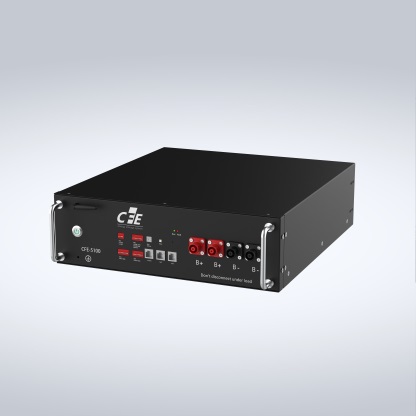 CFE-5100
1.Signal module could be installed in parallel or serial connection.
2.Integrated WIFI Modem in each unit, helps to solve problem quickly for after service.
3.Direct connect with smart phone and battery BMS, solve after service for those site without internet.
4.Remote upgrade firmware decrease after service.
5.Relay included in each module, which is more stable and reliable than MOSfet.
6.Radom connect battery ignore the voltage different.
7.Provide wall mountain and ground install methods.
8.Voltage, current sampling precision, benefits SOC mathematic more accuracy.
9.SOC mathematic more correctly and never jump.
Product Description
Product Parameters

Basic Parameters

CFE 5100

Nominal Voltage(V)

51.2

Nominal Capacity(Wh)

5120

Usable Capacity(Wh)

4608

Dimension(mm)

442*500*133

Weight(Kgs)

42±0.5

Charge/Discharge Current(A)

60(Recommend)

60(Max)

100(Peak@15s)

Communication Port

CAN / RS485

Single string quantity(pcs)

8

Charge Working Temperature(℃)

0~45

DisCharge Working Temperature(℃)

-10~55

Storage Temperature(℃)

-10~35

Humidity

0~95% (No Condensed Water)

Altitude(m)

<2000

IP Rating

IP20

Warranty

10 years

Cycle life

6000

Authentication Level

CE & TUV(IEC 62619, IEC 62040) UN3480

Cooling Type

Ambient Cooling

Installation